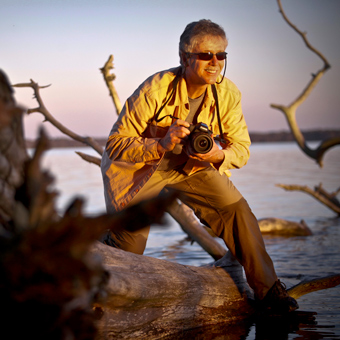 photo by Rob Witzel
"If Florida had a Photographer Laureate,
John Moran should hold that title."
--Gary Mormino, co-director of the Florida Studies Program, University of South Florida
Traveling the Sunshine State with his cameras, John Moran seeks his vision of natural Florida as it must have appeared to Ponce de Leon and other early strangers in paradise. Moran's work celebrates the magic of a unique landscape born of water and blessed with beauty beyond measure.

His portfolio of landscape and wildlife photography ranges from the Gulf to the Atlantic with an emphasis on Florida waters: the rivers, lakes, coasts, swamps and springs, and the creatures that inhabit them.

A University of Florida graduate, Moran's photography has appeared in numerous books and magazines including National Geographic, Life, Time, Newsweek, Smithsonian, The New York Times Magazine and on the cover of the National Audubon Society Field Guide to Florida.

Moran has been named Photographer of the Year for the Southeastern U.S. by the National Press Photographers Association. His photograph of alligators at dusk at Paynes Prairie State Park was selected as the top-placing American photograph in the United Nations Earth Summit photo contest.

Following a 23-year career as a photographer, writer and editor for The Gainesville Sun, Moran left the world of daily journalism in 2003 to concentrate full time on photographing the best of vanishing natural Florida.

Moran's "Journal of Light: The Visual Diary of a Florida Nature Photographer," a 20-year collection of photos and essays, was published in 2004. "Journal of Light" debuted in 2005 as a major traveling exhibit of the Florida Museum of Natural History.

Moran's ever-evolving Journal of Light statewide speaking programs, detailing a photographer's search for the soul of Florida, have been called "exquisite," "lyrical," "breathtaking" and "like nothing I have ever seen."

Moran was the State of Florida contract nature photographer in 2006, creating a calendar on State Lands distributed by the Florida DEP and the Governor's office. Other book projects are in the works, including a Suwannee River rafting adventure from the Okefenokee Swamp to the Gulf of Mexico, and a county-by-county statewide photo book, depicting the flora, fauna and geography of each of Florida's 67 counties, to be titled John Moran's Florida—One State, Many Worlds.

On photographing the nature of Florida, Moran says, "Truly a universal language, photography can help us better understand and appreciate the many gifts of nature bestowed upon this great state we call home."
---
Read a profile of John Moran by Jeff Klinkenberg of the St. Petersburg Times:
http://www.sptimes.com/2005/04/05/Floridian/Photographer_laureate.shtml


Read an Outdoor Photographer magazine profile on John and his work at:
http://www.outdoorphotographer.com/locations/north-america/florida-explored.html